Shannon (Loughlin) Kilbridge, Ph.D.
Associate Director
Department of Pastoral Services
Pastoral Associates
585-328-3228, ext. 1218
shannon.loughlin@dor.org
Bernard Grizard
Diocesan Director
Department of Pastoral Services
585-328-3228, ext. 1328
bernard.grizard@dor.org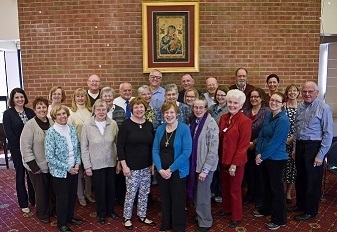 Pastoral Associates and Ministers serve in the parishes in a wide variety of ministries depending on the particular needs and location of the parish. Among the most common ministries is all forms of pastoral care, liturgy preparation, visitation of the sick and homebound, adult formation, RCIA sessions, evangelization and outreach.
The Department of Pastoral Services seeks to support these ministers through workshops, retreats, newsletters, close communication and other material resources as needed. It also thanks them for their incredible dedication to the mission of bringing Christ to those in their parish and local communities.
Each year the Pastoral Associates'/Pastoral Ministers' Association Executive Committee sponsor a professional day workshop on some area of ministry in the fall.  In the spring the Committee hosts a retreat day.  Please see the details of the events and come share in a time of spiritual rejunvenation with your fellow workers in the vineyard!
Spring 2018 Retreat
Gleanings in the Vineyard
A quarterly newsletter communicates ongoing events of interest in the various parishes, highlights different pastoral associates and ministers and acts as a forum for questions, prayers and exchange of ministerial experiences.  Gleanings is written for and by you! Please send contributions, big and small, to shannon.loughlin@dor.org.
Past issues: