Staff Contacts
Michael Sauter
Diocesan Director
Department of Pastoral Services
585-328-3228, ext. 1337
[email protected]
Elizabeth M. Johnston
Coordinator of Life Issues & Cultural Ministries
Department of Pastoral Services
585-328-3228, ext. 1278
[email protected]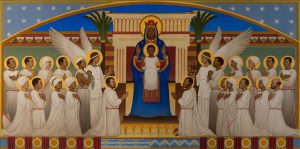 Congress XII Mural of the Madonna and Child
Created by Californian artist Enzo Selvaggi, the mural features a heavenly court of Black saints. Men and women of varied hue, tongue, nation and era are depicted as they worship the Christ child, Himself enthroned in the loving and nurturing embrace of the Blessed Virgin, the Seat of Wisdom. (Taken from the NBCC website)
**View mural key here.
Our Mission
The Office of Cultural Ministries provides resources to enhance growth and development for all Black Catholics in our Diocese, lay as well as religious. Our ultimate aim is the full participation of Catholics of African descent in the life of the Church and the appreciation of their gifts in worship and evangelization.
We accomplish this by:
Providing opportunities for evangelization of Black Catholics through programs, workshops and events
Collaborating with parishes and other organizations that serve the Black Catholic community
Encouraging and providing opportunities for cross-cultural dialogue about race
Our ministry efforts are guided by the NBCC National Plan of Action for Black Ministry (New plan TBA upon completion of the NBCC Congress XIII in July 2023).
NBCC Congress Pastoral Plans and Diocesan Reports
Resources for Combatting Racism - Visit the Diocesan LifeROC.org website
Recommended Resources